Ask Me 3 is an educational program that encourages patients and families to ask their health professional three questions at the end of every appointment or consultation:
What is my main problem?
What do I need to do?
Why is it important for me to do this?
These questions can build health literacy and help people better understand their health conditions and what they need to do to stay healthy.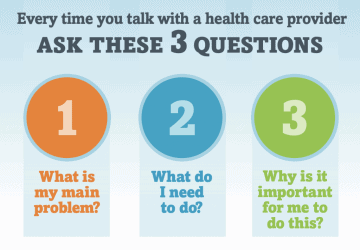 Ask Me 3 is a time efficient and effective way to:
support patients to become more active partners in their health care, and
improve communication between patients, families, and health care professionals.
Consumers can use the Ask Me 3 form in a consultation to prompt them to ask questions and to write down the answers. Some patients may find it easier if you write the answers down for them. This helps reinforce the information and avoids any embarrassment they may feel if they have low literacy.
While Ask Me 3 focuses on the patient asking the questions, it is important that you provide answers that the patient will understand. You can:
encourage or prompt patients to ask questions, and
allow enough time for questions and answers during a consultation.
No one should leave an appointment unsure about their health condition, what the plan is, or with unanswered questions.
Resources
Ask me 3 was developed by health literacy experts at the National Patient Safety Foundation in the US and is licensed by the Institute for Healthcare Improvement (IHI).  IHI provides Ask Me 3 materials and resources for download and distribution free of charge, through a non-exclusive, non-transferable license, to aid in the promotion of health communication, including health literacy, and increased patient safety.
You can find out more about Ask Me 3 and access free resources at the IHI website here.
Last Updated on 3 December, 2020.