Informed Consent for Consumers
Informed Consent for Consumers
What does Informed Consent mean?
Informed consent in health care means you agree for a health care professional to provide you with treatment and care, including any tests, medicines, or procedures.
Sometimes informed consent means signing a form, such as when you are completing forms before an operation.  Sometimes it is just verbal, like when your doctor asks if he can examine you.  And sometimes it is "implied", which means you have given your consent by going ahead with a recommended treatment, such as taking a prescribed medicine or undergoing a test.
Before you can give informed consent, you must be given clear information that is easy to understand about the treatment and what its impact might be on your health and lifestyle so you can make the right decisions about your healthcare.
Before you give your consent, make sure:
your doctor has explained all of the treatment options available to you,
that any risks, and the likelihood of those risks, are explained,
you understand the benefits,
you know what costs are involved,
you understand what the short and long term effects of the treatment might be,
you understand why the test or treatment is needed,
you understand what might happen if you choose to do nothing, and
you know about any ongoing changes you may need to make to your lifestyle.
If you are not sure or don't understand at any stage, ask your doctor. Informed consent relies on good communication between you and your doctor.
It's okay to ask your doctor for additional help to make an informed decision. You can ask for:
an interpreter for the language you feel most confident speaking,
information to be provided in different languages and formats (such as with pictures or through video),
a friend, family member, or support person to discuss your options with,
a second opinion, and
time to do further research.
What tests or treatments should you question?
Choosing Wisely Australia has a guide to the tests, treatments, and procedures that you should question before agreeing to.  You can search the guide by condition, test, medication or treatment.
The guide is based on information from Australian experts about their recommendations for the tests, treatments, and procedures that healthcare providers and consumers should question.
Each recommendation is based on the latest evidence.  They are meant to prompt you to have a conversation with your doctors about what is appropriate and necessary for you. You can use the recommendations to help develop a health care plan with your doctor or other health professional.

5 Questions to ask before you give consent to tests or treatments
Choosing Wisely Australia also recommends asking your doctor 5 questions before you agree to any test or treatment. Some tests, treatments, and procedures don't always provide much benefit and in some cases they can even cause harm.
Asking these 5 questions can help make sure you end up with the right care for you.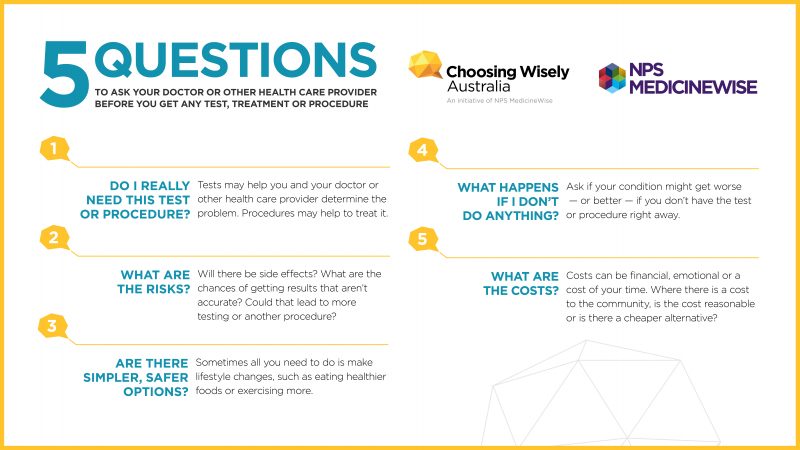 You can find these questions in other languages here.
Informed Financial Consent
Informed financial consent means that a health provider must tell you what you may have to pay for medical services before you agree to have a test or treatment.
Informed financial consent should be included in discussions about what all your treatment options are as part of the informed consent process.
You should be provided with a clear breakdown of the full expected costs of medical treatment and services before you give consent – either implied or in writing.  This includes:
a schedule of fees,
any gaps between the fees and what your health insurance or Medicare will cover (out of pocket expenses), and
who will be invoicing you for services (e.g. the surgeon, the anaesthetist, the hospital, the pathology service, the pharmacy).
You should be able to compare the possible costs of different providers before deciding which specialist or service to use.
Good informed financial consent should include disclosure by providers (doctors, hospitals, medical practices) of any financial interests or benefit they will get on top of their fees in any aspect of your care, including financial interest in facilities or financial gain from the use of devices[i].
If a health care provider has a financial interest in the facility carrying out the medical care, this must be disclosed to the patient.
Resources:
The Australian Medical Association has produced a guide to Informed Financial Consent for consumers.
You can find out more about informed consent in Canberra Health Services on their website.
You can find out more about out-off-pocket expenses, hospital costs, what private insurance and Medicare cover, and how to work out if the fees your doctor or specialist charge are good value, on the Commonwealth Department of Health website here.
The Commonwealth government also has a Medical Costs Finder which can help you understand the cost of common medical procedures provided by specialists in Australia.
Last Updated on 12 July, 2023.