Sometimes it can be hard to make a health decision when there are a lot of different options and possible outcomes.  Decision aids are tools that help people who need to make a decision.  They help by:
clearly identifying the decision that needs to be made,
helping people work through the options and possible outcomes, and
helping people to clarify their priorities and values.
They are designed to be used to help you discuss your options with health professionals, not replace those discussions.
Decision aids can be pamphlets, videos, or web-based tools.
Using a decision aid can be particularly helpful when:
there is more than one reasonable option,
no option has a clear advantage in terms of health outcomes, or
each option has benefits and harms that patients may value differently.
Why use a decision support tool?
There is good evidence[i] that using decision support tools, such as a decision aid, can help consumers by:
Improving their knowledge of the options,
Helping clarify what matters most to them,
Giving realistic expectations about the possible benefits and harms of different options,
Giving them confidence to express their preferences in decisions, and
Helping them to participate more in shared decision making.
Decision aids are very helpful for complex decisions that need careful consideration. They can help you work out what importance you place on possible outcomes, how different options could impact on your personal circumstances, and to think about your values affect your decision.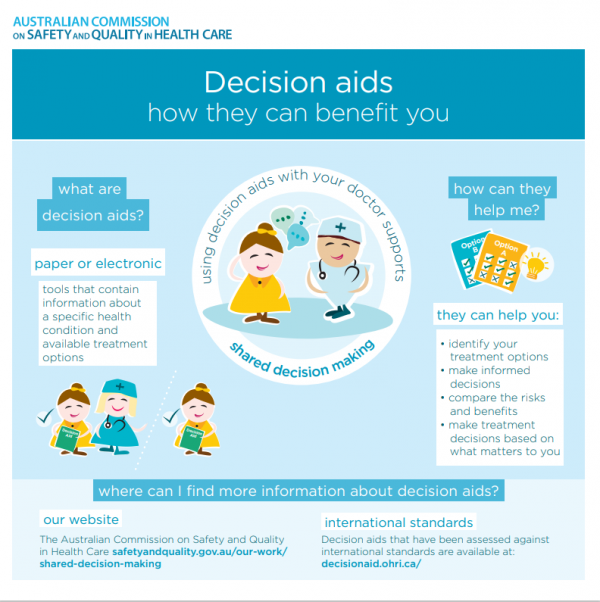 General decision aid tools
The Ottawa Health Research Institute in Canada has developed a Personal Decision Guide for people making health or personal decisions [PDF template].  Consumers can use this tool to work through any major decision.
The guide is available in other languages and a "family" guide is also available
Decision aids for specific health conditions
Decision aids for specific medical conditions bring together evidence about conditions and treatments to help consumers compare the risks and benefits of different treatment options and to help work out what is the best option for the individual.
Australian tools
The Australian Commission on Safety and Quality in Health Care has developed some decision support tools for consumers on antibiotic use and osteoarthritis of the knee.
You can find the resources here.
 International tools
The Ottawa Health Research Institute has compiled a list of Decision Aids for specific conditions that comply with international standards for decision aids.  They have an alphabetical listing that you can search here.
Dartmouth-Hitchcock medical service in the US has a very user friendly online health information and decision aid – Dartmouth-Hitchcock Healthwise Health Encyclopedia.  It is US based, but has good information on specific diseases, tests and points in health care when you need to make decisions.
Dig Deeper
A good decision aid should:
Be evidence-based, using evidence-based statements of benefits and risks from credible sources,
Be balanced in presenting all options (including doing nothing),
Clearly set out the benefits and risks of all options,
Be up to date and include current evidence and treatment options, and
Clearly identify who produced the aid and any conflicts of interests eg funded by pharmaceutical companies.
The International Patient Decision Aid Standards (IPDAS) Collaboration is a group of researchers, health professionals and stakeholders from around the world that works to improve the quality and effectiveness of patient decision aids.  They have established an evidence-based framework that has a set of criteria for improving the content, development, implementation, and evaluation of decision aids for specific conditions and treatments.
References:
[i] Stacey D, Légaré F, Lewis K, Barry MJ, Bennett CL, Eden KB, Holmes-Rovner M, Llewellyn-Thomas H, Lyddiatt A, Thomson R, Trevena L. Decision aids for people facing health treatment or screening decisions. Cochrane Database of Systematic Reviews 2017, Issue 4. Art. No.: CD001431. DOI: 10.1002/14651858.CD001431.pub5
Last Updated on 21 December, 2020.