Do you need an interpreter?
Do you need an interpreter?
In Canberra you can use the Translating and Interpreting Service (TIS) if you need an interpreter when you use any health service. TIS is a free national interpreting service.
For immediate help from a phone interpreter, call TIS on 131 450 for free. You can ask for a male or female interpreter. TIS interpreters will not share your information with anyone unless you tell them they can.
You have the right to a free interpreter when using all public and private health services in the ACT.
Public health services are health services provided by the ACT Government. They include all services at the Canberra Hospital, Calvary Public Hospital Bruce, Walk-in Centres, and Community Health Centres.
Private health services include private hospitals, General Practices, and specialist doctors.
If you have an appointment or procedure booked in advance and need an interpreter, tell your health service as soon as possible. The service can pre-book a TIS interpreter to assist over the phone, or in person.

The National Interpreter Symbol helps you work out what places offer help with other  languages. You can also use the symbol to show you need language help.
Trained Interpreters are important in health care
It's important to use a professional interpreter in health care, especially in emergency situations. This will help make sure that the information you give and receive is translated correctly so you get the care you need.  Sometimes your family or friends won't understand medical words or meanings properly, and they may be worried about talking about private or embarrassing things. You can ask for a male or female interpreter to make it easier to discuss private or personal details without embarrassment.
TIS interpreters will not share your information with anyone unless you tell them they can.
TIS interpreters have special skills and training to do interpreting in health care. They are trained in medical language and how to translate medical words into your language.  All TIS interpreters are certified interpreters. This means their skills have been assessed by the National Accreditation Authority for Translators and Interpreters (NAATI). TIS makes sure all their interpreters are trained and have the skills they need.
For more information, please visit the TIS website.
 
Information about ACT health services in your language
The ACT Government provides information about health services in Canberra in the following languages:
Health Interpreter Cards
You can use an Interpreter Card to tell health care providers that you need an interpreter. The card is available in 47 languages.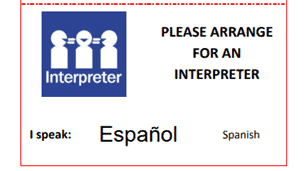 You can print a copy of the card or save it on a smartphone or tablet.  You can download the cards here. The card was developed by the ACT Health Directorate.
Private practice doctors can access free interpreter services
Doctors in private practice can access free interpreter services for their patients, provided through the Commonwealth-funded translating and interpreting service (TIS).
The Free Interpreting Service is accessible 24/7 by phone, or face-to-face interpreter services can be pre-booked.
Medical practitioners in private practice and their reception/support staff can access the service through the Doctors Priority Line (DPL). It is available for all services which are covered by Medicare and delivered in private practice for patients who have a Medicare card.
More information for health professionals
You might find that your doctor or other health care provider is unsure about how to use an interpreter.  The Translating and Interpreting Service (TIS) has information for health professionals about how to use the TIS.  You can find it here.
Last Updated on 16 January, 2023.